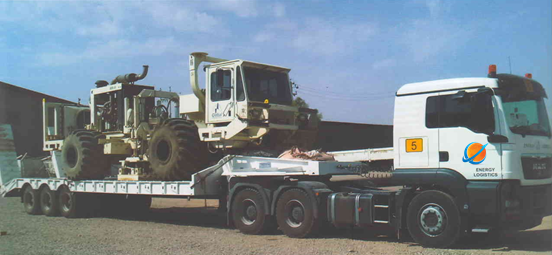 ROAD FREIGHT SOLUTIONS
Energy Logistics is the vital link between the Freight and Brokerage products and aim to provide a cost and time efficient Door-to-Door service to the customer. The journey is meticulously managed via GPS systems to ensure your Cargo is delivered at the promised time.
Flatbed and Step Deck
Energy Logistics specializes in flatbed transport and step deck transport services, large and small – even LTL flatbed transport. We can transport your freight where you want it, safely and on time.
When it comes to flatbed transportation, we understand that security is everything. Your freight must get where it's headed securely and on time. That's why our team of business capacity owners and third-party capacity providers take the time to secure your flatbed freight properly. In addition to standard tarping and binding, our flatbed shipping services include on-site safety and securement consultations to ensure we have the right equipment for the job, with our in house HSE Team.
When you need safe, secure flatbed hauling or platform services you can count on Energy Logistics. We'll set platform solutions in motion for you.
Specialty & Heavy Haul
Energy Logistics are uniquely equipped to handle all your specialized hauling needs. Our unparalleled commitment to safety makes us the obvious choice when it comes to superheavy or oversized freight. Our vast collection of specialized equipment. Take a minute to look over our impressive inventory and you'll see that Energy Logistics have access to everything they need to set specialized transport solutions in motion for you.
Internet technology that matches our heavy haul trucks and equipment with your heavy haul freight, ensuring you get safe, responsive customized service
When comparing heavy haul carriers, remember, there's more to successful specialized hauling than just oversize and overweight permits – the difference is in the details. For the most comprehensive specialized and heavy haul transport available, Energy Logistics is the leading domestic, and international company.