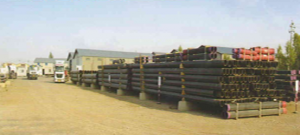 3PL AND WAREHOUSING SOLUTIONS
Energy Logistics has the flexible warehouse logistics options you need, combined with an efficient and reliable distribution network, creates the variable cost model needed to reduce costs and improve the flow.
Our local market knowledge provides value and makes a significant contribution to the smooth delivery of your supply chain strategy. We simply know how to get things done in Iraq and have developed rock-solid relationships in the region, and internationally with our business partners.
Energy Logistics provides warehouse services such as space, equipment, systems, and quality labor all focused on helping you achieve your goals.
Let us work with you to develop a "Blueprint" for success.
Integrated Logistics Capabilities for the Seamless Flow of Cargo and Information
Energy Logistics experts combine warehousing and distribution, advanced systems and technology, as well as Value Added Services to customize your supply chain to meet your precise goals and requirements. Our dedicated teams select and apply the exact resources you need to improve your business's performance and provide flexibility for a dynamic marketplace.
Scalable Warehousing and Distribution
As the heart and driving force of our successful supply chain solutions, Energy Logistics warehousing and distribution capabilities include full-service management. Backed by Road, Air, Sea freight forwarding products, advanced technology, and strategic facilities, our experts have the resources to put their plans into action. From consulting to overseeing delivery,
Our facilities are strategically located for ease of reach and equipment access. With flexibility in facility size and type, we are able to select an existing site or set up what you need for optimal proximity.
Complete List of 3PL Services
General cargo and Warehousing facilities
Open Yard Security Ring Fenced
Just-in-time inventory management and distribution
Dangerous Goods (DG) storage
Inventory Management Systems
We welcome any extraordinary requirements and are willing to customize a special set of services that are suited to your needs!